Questionnaire... go!
1.Do you want a boyfriend or girlfriend?
I already have a wonderful boyfriend
2.When did your last hug take place?
Like half an hour ago, I hugged Jenna.
3.Are you a jealous person?
It depends on what the person looks like to be honest.
4.Are you tired right now?
Physically tired, mentally alert.
5.Do you chew on your straws?
No, I don't like that.
6.Have you ever been called a tease?
Yes.
7.Have you ever been awake for 48 hours straight?
Nope.
8.Do you cry easily?
I cry when watching musicals... ANY musical. It's pathetic, but that's what broadway does to me.
9.What should you be doing right now?
Sleeping
10.Are you a heavy sleeper?
Not as much as I used to be.
11.Do you think you can last in a relationship for 6 months?
I've been in this one for almost 2 years, so yes.
12.Are you mad at someone right now?
Not at all.
13.Do you believe in love?
Indeed,
14.What makes you laugh no matter what?
Well, when I'm upset... I don't think anything.
15.Who was the last person you talked to?
16.Do you get butterflies around the person you like?
Every time.
17.Will you get married?
Hopefully!
18.When was the last time you smiled?
While answering the previous question.
19.Does anyone like you?
Yes.
20.Do you secretly like someone?
I have celebrity crushes.
21.Who was the first person you talked to today?
My boyfriend.
22.Who do you feel most comfortable talking to about anything?
My boyfriend and my mother.
23.What are you NOT looking forward to?
My boyfriend leaving for the Airforce : (
24.What ARE you looking forward to?
Summer!
25.Has someone of the opposite sex ever told you they loved you, and meant it?
Yes
26.Suppose you see your ex kissing another person what would you do?
Nothing
27.Do you plan on moving out within the next year?
Well, within the next 2-3 years
28.Are you a forgiving person?
I like to think so.
29.How many TRUE friends do you have?
Not many.
30.Do you fall for people easily?
No.
31.Have you ever fallen for your ex's best friend?
No.
32.What's the last thing you put in your mouth?
Chocolate cake!
33.Who was the last person you drove with?
Jenna
34.How late did you stay up last night and why?
I don't remember
35.If you could move somewhere else, would you?
Not alone, but yeah
36.Who was the last person you took a picture of?
Jenna and Kevin
37.Can you live a day without TV?
yeah
38.When was the last time you were extremely disappointed?
not for a while...
39.Three names you go by..
Paula, Paulinha, and Princess.
40.Are you currently in a relationship?
Yes.
41.What is your all-time favorite romance movie?
The Notebook? Dear John? IDK?
42.Do you believe that everyone has a soul-mate?
I do.
43.What's your current problem?
Fear of the future.
44.Have you ever had your heart broken?
Yeah
45.Your thoughts of long distance relationships?
Been in one, not for me.
46.How many kids do you want to have?
Ideally, none. But if I have to... two.
47.Have you ever found it hard to tell someone you like them?
Yeah.
Haven't done one of these in a while...
Have you ever: 1. Skipped class? Yes 2. Done drugs? No 3. Self harmed? If overeating counts, then yes. 4. Drank? Don't we all? 5. Shoplifted? Yes 6. Gotten a tattoo? No 7. Broken up with someone? Yes What's your favorite: 8. Show? Not sure, I think "New Girl" at the moment. 9. Movie? Something cheesy 10. Song? Take on Me 11. Tumblr? Don't have one really. 12....
6 tags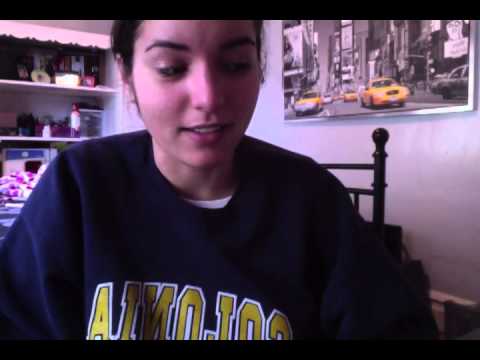 2 tags
Quero tanto..
Alias, quería né? Quería tanto ser aquela menina que passa e todo mundo consegue ver que sou diferente, que tenho qualidades que me faz diferente de todas as outras meninas no quarto. Queria tanto poder ler as mentes das pessoas com quem eu converso. Será que eles realmente estão concordando comigo? Será que os meninos estão prestando atenção nas minhas palavras, ou pro meu rosto e peitos? Eu não...
mineyeuni asked: Do I know you in real life lol
AudioBulb
blaaahg: This may be the next wireless audio/light product to upgrade your pimp palace. Built to fit into standard bulb sockets, the Audiobulb by GiiNii serves as both an LED bulb AND a wireless speaker. With the iPod/iPhone dock as a wireless remote that speaks to all the speakers, you can distribute 16 of these bad boys around your property to create an easy to control system that would make...
reemama asked: I like your headline ;)
Letting it out a little bit
Once upon a time I had everything you wanted.  Once upon a time we were perfect. Now I'm all messed up, Feeling empty and stuck, Hard to believe that you think I'm still worth it.
Watch
remember when connecting to the internet sounded like it was performing an exorcism I remember this like it was yesterday!
Watch
laughingsquid: Cialis Commercial by Pixar LOL
Devastation&Reform: Relient-K
  Fear can drive stick And it's taking me down this road A road down which I swore I'd never go And here I sit Thinking of God knows what Afraid to admit I might self-destruct So lock the windows And bolt the door 'Cause I've got enough problems Without creating more I feel like I was born To devastation and reform Destroying everything I loved And the worst part is I pull...
Watch
littlegleeprincess: Harry and Kevin reenact Finchel car scene